Guest Lecturer Jeremy Roberston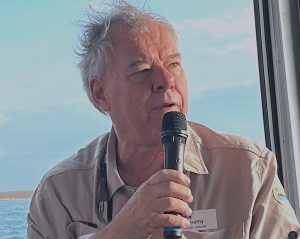 Born a Scot, evolutionary biologist Jeremy lived much of his childhood in India where his fascination with nature began. This interest was turbo charged when Gerald Durrell kindly replied to a letter from teenage Jeremy asking Durrell how he could follow in the great naturalist's footsteps. Durrell's suggestion for him to undertake a degree in zoology led Jeremy to Aberdeen University in Scotland. Research as an undergraduate on European otters found him Durrell-like rearing an otter cub in his flat. This combined with a love of university life with its constant exchange of challenging ideas confirmed he had made the right choice for his future career.
Jeremy first came to Australia in 1978 on a PhD scholarship to the Australian National University in Canberra where he designed his own research topic on  "sex and violence in frogs". Having completed his PhD Jeremy left Australia to work as a wildlife researcher in Uppsala, Sweden, where he continued research on frogs, newts and birds.
Seven years later he resigned his academic position in Sweden and returned to his roots setting up a field centre on the shores of Loch Torridon, a deep fiord on the west coast of Scotland. Here he delighted in sharing the idyllic surroundings and his knowledge and love of nature with the ecotourist guests who stayed at the field centre with him and his young family.
Jeremy  returned  to academic life and back to the great Land Down Under when he successfully applied for a hotly contended position at Flinders University in Adelaide in 1996 to establish an Ecotourism degree. This enabled him to resume research mainly on birds, including seven seasons studying Darwin's Finches in the Galápagos Islands as well as  extensive work on Australian native birds such as Superb Fairy Wrens, Thick-billed Grasswrens, Western Whipbirds and Pelicans. This work is published in many scientific papers.
Apart from research Jeremy considers teaching to be very important, especially as biology is extremely fact laden and potentially confusing. Jeremy's success as a teacher has been due to his ability to lay out frameworks that make the myriad of facts, accessible, enjoyable and relevant to a wide audience – all buoyed by a sense of humour. To overcome the growing restrictions imposed on undergraduate fieldwork in Australia Jeremy designed two practical topics that enabled him to take over 300 Australian first and second year university students (25 at a time) to South Africa for two months of each year for seven years. The students undertook vegetation and animal surveys in 'big five' country that contributed valuable data for land and wildlife management. The students found the experience exhilarating and life changing.
Birdwatching for fun finds Jeremy in the mad pursuit of all of the 240 Families of birds around the world (19 to go), and he is also a general naturalist with broad interests and an insatiable curiosity for all aspects of human and animal behaviour and what make the world go round.
Now retired  from university life Jeremy delights in continuing to explore the natural world. Coral Expeditions has enabled him to pursue and share his passion for the biological world, history, literature, geology, biogeography, astronomy and life. He is particularly grateful to be able to continue to learn from the shared stories and life experience brought to every expedition trip by both passengers and fellow crew. Jeremy has had the pleasure of being a guest lecturer with Coral Expeditions since 2021.