Expeditions Across the Top – Great Travel, for Good
Over decades we have built our reputation for cultural sensitivity, cultural safety, authenticity, and care in our explorations of Northern Australia's remote coastlines. At the heart of this is respect for relationships with First Nations communities who welcome us. That reputation now sees us at the forefront of the latest global travel trend – regenerative tourism or "travel for good". Unsurprisingly we know that this is what our guests love about our style of cruising.
Now is an important time for us all to take stock of our place in the world around us. Aspirations for genuinely positive travel experiences have never been stronger. Sustainable tourism partly addressed this in aiming to counterbalance the social and environmental impacts associated with travel and keep the status quo, but regenerative travel goes a step further in striving to leave a destination better than it was before. Travel for good explicitly aims to improve local economies, preserve local cultures, and protect biodiversity, all done whilst offering memorable, authentic, and life-changing experiences.
It's a lofty aspiration, but one that is at the heart of our Cape York, Arnhem Land and Torres Strait voyages, which have grown and developed over the years through forging strong relationships and truly understanding the extraordinary communities and destinations on these unique voyages.
Culture and Art
Our Cape York, Arnhem Land and Torres Strait Island itineraries celebrate and share the art and traditions of one of the most ancient, rich and enduring cultures in the world. In some cases – like visiting the remote Endean Aboriginal Rock Art on Stanley Island – we do this in the company of Traditional Owner guides on their homelands. In other cases we visit the wonderfully diverse and unique cultural art centres that are the hub at the heart of the community.
Though vibrant, active, and globally significant, many of these centres we visit are quite inaccessible due to their geographic remoteness and requirements for special visitor permission from the relevant Land Councils. Through our ongoing relationships we can attain access and share the art, culture and stories.
Badu Art Centre in the Torres Strait enables the people of Badu Island to renew, strengthen and express their culture while providing skills development and training that can lead to complete self-determination. Reflecting their strong cultural traditions, language and links to the sea, Badu artists produce works using a range of media including printmaking, etching, jewellery, textiles and carving, and our guests have an opportunity to watch the printmakers at work.
Still in the Torres Strait, at Moa Arts on Moa Island we join in print, weaving and jewellery workshops with local artists and our relationship with the centre is critical in their development of economic opportunities. Moa Arts celebrates Mualgal art and culture and the living traditions of Zenadth Kes (the Torres Strait) which we are privileged to experience through a traditional dance and song performance.
The Gab Titui Cultural Centre is a contemporary art gallery and keeping place for cultural artefacts, located on Thursday Island – land of the Kaurareg nation, the traditional custodians of the Kaiwalagal region (Inner Islands) of the Torres Strait. Their goal is to preserve, revitalise and develop the region's rich cultures and their changing program of exhibitions includes sculptures, headdresses, intricate lino-cut prints, wood carvings and paintings, as well as jewellery made from local materials such as pearl and sea shells.
The spectacular Buku-Larrnggay Mulka Centre is an Indigenous community-controlled art centre of Northeast Arnhem Land located in Yirrkala.  In the 1950s Yirrkala art is believed to have been the catalyst for the non-Aboriginal art world's realisation that Indigenous Australian art is a unique and profound independent art tradition – the equal of any other global form.  Established in 1976 as an act of self-determination, the Buku Art Centre has forged a vibrant path for Yolŋu contemporary art and represents Yolŋu artists from around the region as well as housing important historical artefacts.
The remote and culturally rich Tiwi Islands off the coast of Darwin are home to a number of art centres including Ngaruwanajirri at Wurrumiyanga on Bathurst Island. Ngaruwanajirri, which means 'helping one another' in Tiwi, was established in 1994 originally for disabled Tiwi residents but now includes all artists.  Art created includes natural ochre paintings on paper and canvas, batik on silk, lino prints on paper and fabric and ironwood carvings. Many paintings and carvings from Ngaruwanajirri, including tutini poles for Pukumani ceremonies, are found in private collections and galleries across the world.
Maningrida Arts & Culture centre is based on Kunibídji country in Arnhem Land and its artists are celebrated across the globe. We visit both the Djómi Museum and the Babbarra Women's Centre, home to the exquisite Babbarra Designs hand-printed textiles. Meeting Elders who share their stories through art provides a unique and memorable perspective and cultural connection.
Elcho Island Arts is a Yolŋu-owned art centre located in Galiwin'ku off the north-east coast of East Arnhem Land. The community's artists are renowned for their originality in design and knowledge of traditional bush materials, continuing a tradition of many thousands of years. Their artworks, weavings, fibre art, carvings and ceremonial poles are widely exhibited worldwide including at the Louvre in Paris. At Elcho Island Arts the works exhibited include Morning Star poles, larrakitj or Dupan, bark paintings, yidaki (didjeridu), woven pandanus baskets, carvings and shell jewellery. Their fibre art is particularly prominent, with grasses and fibres dyed and woven together to form baskets, dilly bags, mats, fishing nets and jewellery.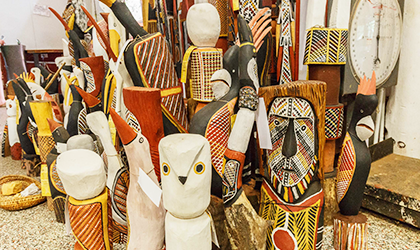 Community Traditions
As well as the art and cultural centres, our guests have exclusive opportunities to meet with and learn about coastal and island communities on our various Cape York, Torres Strait and Arnhem Land itineraries.
At Badu Island we enjoy a traditional kai kai feast of fresh fish & seafood prepared by the local community on the beach then spend the afternoon enjoying the beach with Traditional Owners; on Moa Island we are treated to a traditional dance and song performance; on Elcho Island we visit the proud community and school at Gawa where guests sit side by side with curious young students; on Thursday Island we take a walking tour with a local guide; and at the Tiwi Islands we're welcomed with a smoking ceremony, dancing and an afternoon tea of home-made damper and billy tea.
Living in such remote locations, these communities' opportunities for sharing their culture are limited so the experiences are genuinely joyful and celebratory.
Economic Benefit
Every engagement with local businesses, communities, art centres, and individuals contributes to financial independence now and for future generations. Economic opportunities are often few and far between, and the guests who visit in person make a real contribution.
When it comes to artworks, most centres encourage collectors to purchase direct from the art centres. This not only ensures authenticity and provenance of the artwork, but importantly it maximises the income to the artist. And in larger centres like Thursday Island there's an opportunity to support the wider community by exploring and shopping at local stores during our shore visit.
Not only do guests contribute whilst they are there, but many stay in touch and continue the relationship for years after a visit. A special connection is made based around the culture and stories learnt. Coral Expeditions has itself commissioned many works for the interior of our vessels and have taken it a step further with the annual sponsorship of the Cairns Indigenous Art Fair.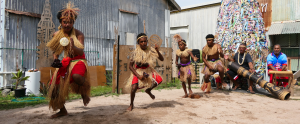 Cultural Respect
It's not always easy to access the remote island and coastal communities of the Torres Straits and Arnhem Land and we're proud of the relationships we've developed over many decades.  The warm welcomes are based on mutual respect and understanding, which means that occasionally, and for a variety of reasons, it is not appropriate for us to complete a planned visit. We respect this and understand the local decisions without question. We always have back up plans available on any expedition.
For more information and itineraries, visit https://www.coralexpeditions.com/au/destinations/cape-york-arnhem-land/