A Pioneering Cruise Line – An Anthology of Stories
The below is a digital version of the "A Pioneering Cruise Line" book published in March 2019. Edited by Alexander Scott. 
A compendium of recollections from longstanding staff and crew, A Pioneering Cruise Line marks the 35th anniversary of Coral Expeditions as an operator of expedition voyages to faraway lands. Learn about the early days of the company from its intrepid founder, see the world through the lens of its veteran captains and pursers, laugh at the foibles of crew onboard, marvel at the insights of the company's renowned naturalists, find out about plans for the company's future. This is the story of Coral Expeditions from the people who built and shaped it. If you like history, nature or simply a good yarn, this is compelling reading.
I remember the moment – early one cool June morning in 2014 – when I decided I wanted to be involved in Coral Princess Cruises. I was standing on the aft deck of the (then) Coral Princess II marvelling at the colours of a Queensland dawn. The perfect quiet was punctuated by water softly lapping against the hull. The smell of fresh brewed coffee wafted up as the well-oiled crew organized breakfast. Guests with sleepy eyes trickled up to their favourite spots on deck to contemplate the day. Some choosing to snorkel or scuba dive whilst others joined the glass-bottomed boat tour. A lazy few (like me) were lured by the pleasures of a deck chair, the sea breeze and a good book.
Another day in paradise had begun.
Coral Expeditions is a special place to work and I consider myself privileged to be part of its story. I often remind our managers that we are merely custodians of the business on behalf of guests, who return year after year to experience the world around us in a uniquely Coral Expeditions way.
Now in our fourth decade and on strong foundations built by founders Vicki and Tony Briggs, the addition of our newbuild vessels Coral Adventurer & Coral Geographer represent a new level of size and sophistication for the company allowing us to further fulfil our tagline of 'Australia's pioneering cruise line'.
I must thank Alexander (Sandy) Scott for his initiative and passion for the company to delve into the stories of the companies history. Sandy has been associated with Coral Expeditions for many years and has seen it grow and mature. Staff, friends and well-wishers like Sandy are the bedrock of the company.
Paul Chacko
Executive Director
This collection of stories is about Coral Expeditions and its history that extends over 35 years as it expanded its expedition cruising from the Great Barrier Reef, around northern Australia, south to Tasmania and eventually to incorporate New Guinea and Papua and other Pacific Ocean destinations.
We hope it gives you some interesting reading, stimulating images and a small insight into what Coral Expeditions has to offer discerning travellers during small-ship adventure cruising in Australian and near Australian coastal destinations.
To produce this chronicle, I have gathered contributions especially written from many of the people who have enriched these cruising adventures, contributions that reflect their interests and passions about places they have visited and what they have experienced. These contributors have various connections to Coral Expeditions ranging from the original owner to ship Masters, Engineers, Expedition Leaders, Hospitality staff, several specialist Guest Lecturers and senior management. Also included are stories that trace the vocational progress of several staff members within the company who have contributed to the success of the company by providing top-class experiences to those who travel with Coral Expeditions.
Fundamental to this pioneering cruise line was Tony Briggs, his inspiration which is captured in a two-part contribution. Captain Gary Wilson then relates many of the parallels Coral Expeditions has with the early European explorers' discoveries of the coastline, particularly with the explorations of Abel Tasman.
Their stories and those that follow, enriched by stunning photographs, broadly trace the progress of the company as Coral Expeditions' array of destinations has expanded.
Plant Ecologist, Geomorphologist and Guest Lecturer

AN OVERVIEW OF CORAL EXPEDITIONS HISTORY: PART 1
The Foundation Years of Coral Princess Cruises
Captain Tony Briggs
Tony Briggs spent much of his early life in the Tasmanian fishing industry but his move to Queensland gave rise to a company Coral Princess Cruises that has pioneered and set the standard for small-ship cruising, especially in northern Australia. Tony tells his story in two parts. Here is Part 1.
Working in the Whitsundays in the early 1970s a very smart ship the Elizabeth E regularly attracted my attention. The owners Bob and John Evetts were building a new ship and in early 1983 I made an offer to buy the Elizabeth E.
In May 1983, Coral Princess Cruises Pty Ltd (CPC) was established and the ship renamed Coral Princess. In this establishment period we operated weekend fishing charters from Mackay.
In October 1983, with guaranteed support from the major Australian tour operators at the time – TAA, Ansett and the Queensland Tourist & Travel Corporation (QTTC) – CPC moved the ship to Townsville and established a weekly 5-day, 4-night cruise from Townsville visiting the Great Barrier Reef, Hinchinbrook Channel and the Palm and Family Group of islands including Dunk Island. On weekends we operated fishing and scuba diving charters to the Great Barrier Reef.
It was at this time the Sheraton Hotel Group were building a casino in Townsville and the airport was upgraded to international with flights to Singapore and Los Angeles.
Coral Princess had a capacity for 24 guests in twin cabins with bunk beds and shared facilities and a crew of five. In 1985 and following a marketing trip to the United States we were featured in the 1986/87 Jetset Travel's international brochure as the only extended cruise
operator on the Great Barrier Reef.
We very quickly recognised that not only did we not have enough capacity, but more importantly our facilities were inadequate.
In December 1987, CPC signed a contract with the Carrington Shipbuilding facilities in Newcastle for the construction of a 35-meter catamaran with a capacity for 54 guests and 12 crew. All 27 staterooms had either twin or double beds and most importantly, private facilities.
In June 1988, we took delivery of the new Coral Princess. The existing vessel was sold to a scuba diving operator in Cairns.
With the introduction of a new and upgraded ship and following regular marketing trips to North America, Europe and the United Kingdom we were prominently featured in all major international tour operator brochures.
In 1990 the Cairns airport was upgraded to international and a new hotel and a casino was being built. With this positive tourism activity we changed our schedule to operate two 3-night cruises between Townsville and Cairns.
We were soon operating at full capacity and were recipients of numerous industry and tourism awards culminating in the prestigious Australian Small Business Award and the Australian Tourism Award. I, Tony Briggs, also received an award for the Most Significant Contribution to Inbound Tourism.
New ships and new destinations were being investigated.
In 1994 CPC purchased the lease on Pelorus Island which provided a significant point of difference to our competitors while providing guests an exclusive uninhabited tropical island experience.

In The Wake Of Tasman | Read Story
By Captain Gary Wilson
The significant activities of Abel Tasman as he explored around many of the locations now visited by our passengers.

From toy boats to Master | Read Story
By Captain Charlie Bettini
Charlie has progressed through his career from Deck Hand to Master on Coral Expeditions' vessels. He outlines his career pathway in the next article,  followed by some of his most memorable times sailing in the Great Barrier Reef.

Corals from Raja Ampat to Tasmania | Read Story
By Dr. Terry Done
Terry's comprehensive article on corals follows and provides a real insight into the diversity and lives of these organisms.

AN OVERVIEW OF CORAL EXPEDITIONS HISTORY: PART 2
Captain Tony Briggs
Expanding cruising routes from the Great Barrier Reef across northern Australia via Arnhem Land to the Kimberley coast opened many new opportunities for travellers wishing to experience these remote and isolated sections of the Australian coastline. The progression of the company as it explored possibilities, pioneered cruises and finally established a popular high-quality itinerary in the Kimberley has made Coral Expeditions a leading small ship adventure cruise line.
One of the great innovations of this company was the development of the Explorer. This flat-bottomed tender can be lowered into the water off the back of Coral Expeditions I loaded with with passengers for estuary and shoreline visits. The Explorer allows all passengers a comfortable seated ride with shade and toilet facilities while away from the mothership. Passengers may easily transfer from the Explorer to Zodiacs if they wish to get ducked under a waterfall(!) or have a closer look at shoreline features.
Tony Briggs' article continues to trace the significant steps the company took in shipbuilding and broadening of the Coral Princess Cruises itineraries until, Tony sold a firmly-established cruise line that was to become known as Coral Ex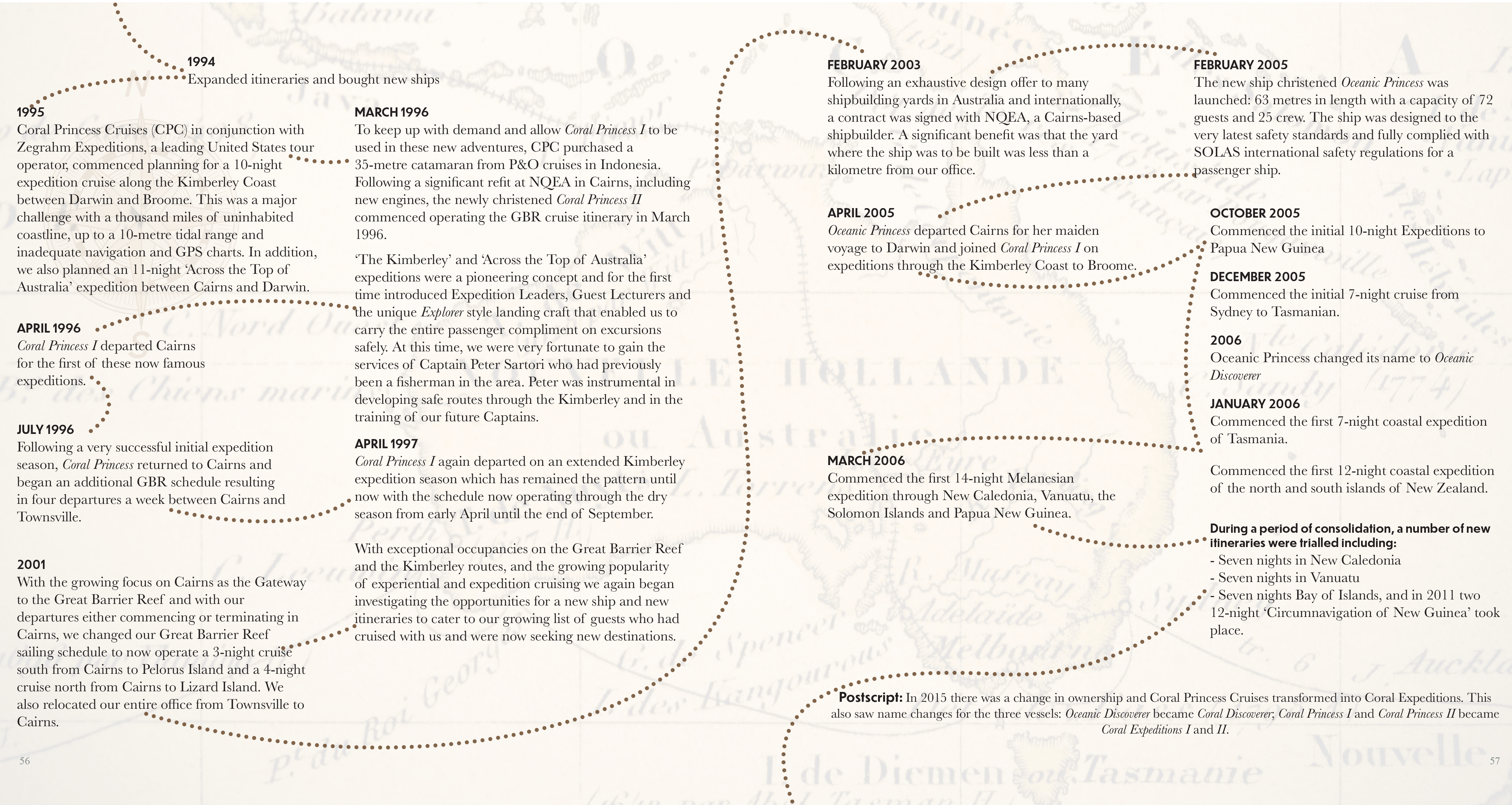 peditions.

Learning about the Kimberley Coast with Peter Sartori | Read Story
By Sandy Scott
Sandy's first of two articles introduces Peter Sartori and his role in assisting the establishment of the company on the Kimberley coast. Many of the ideas presented in his second article about this mainly rocky coastline are expanded upon in his book 'A Traveller's Guide to the Kimberley Coast: bays, basins, islands and estuaries'.

Sunrise at Montgomery Reef | Read Story
By Josh Coxall
Josh Coxall recalls one of his many Montgomery Reef visits during cruises on the Kimberley coast. The event described was early in his career with Coral Expeditions when he was Mate and assisting as an Explorer driver. He also details his career progress within Coral Expeditions.

Reflections of a Guest Lecturer | Read Story
By Ian Morris OAM
Ian Morris, one of our long-time Guest Lecturers, is a self-described zoologist, educator,
conservationist, and author. His knowledge of northern Australian fauna is encyclopaedic and his photographic skills magical!

Mangroves: Forests of the Intertidal Zone | Read Story
By Tom Collis
The following article by Tom describes some of the unique features of mangroves and their role as the home base for many interesting animal species. In a later article, Tom describes part of the wide range of bird species guests may see during Coral Expeditions cruises in both temperate and
tropical waters.

A Career Profile: Part of the furniture? Well not quite | Read Story
By Tamara Sweeting
Tamara Sweeting has spent the greater part of her working career with Coral Expeditions after starting as an 18-year-old with Coral Princess Cruises. She now has an intimate knowledge of hospitality standards and the management of onboard teams to deliver the very best quality of care and attention to our guests. Tamara shares with us of some of the key steps in her career ladder in the following article.
Expanding the Fleet: Coral Discoverer
As a very popular cruise operator in the Kimberley, Coral Expeditions saw there was a need for a new ship to accommodate increasing demand. This resulted in the planning and building of a third ship for the company now called Coral Discoverer. The construction took place in the NQEA yards in Cairns, and the vessel was launched in February 2005. Like Coral Explorer I this vessel too had a passenger tender that was lowered from the stern of the ship. This shallow drafted craft called the Xplorer can carry all 72 passengers and allows quick passage between sites. Over time the Coral Discoverer was fitted with stabilisers making this monohull vessel more comfortable in rough waters compared to its catamaran-hulled sisters.

My Life As An Expedition Crew Member onboard Coral Discoverer | Read Story
By Mark Steadman
As a naturalist with a keen interest in animals, Mark Steadman completed a science degree majoring in zoology as well as a teaching qualification. As an Expedition Leader, Mark certainly brings excursions on water and land to life for passengers on Coral Expeditions Cruises, especially when animals are encountered. His experiences in the Amazon, Hawaii, north Queensland and New Zealand enable him to add depth and context to his narrative in a wide variety of environments.

The Best View Of The Kimberley: From The Ocean | Read Story
By Chris Done
Over the last few decades, an increasing number of Australians and foreign visitors have "done" the Kimberley. Generally, this means they have either self-driven or taken a four-wheel drive coach tour along one or both primary access roads traversing the region. Land-based visitors are, however, unable to access the coast of the north and west Kimberley and it is here that are found what I believe are perhaps the best-kept secrets of Australia's landscapes. Most of these have no recognised road access and can only be reached from the coast or viewed from the air.