A Chat with Expedition Leader Jamie Anderson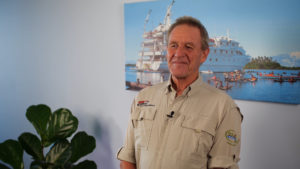 How did you start working with Coral Expeditions?
I was approached in 2002, while teaching in Mareeba, by an old friend of mine, Jason White, who at the time was Operations Manager for Coral Princess Cruises (now Coral Expeditions). The company had had some excellent Expedition Leaders, but they had departed and due to my experience throughout the tropical north of Australia, Jason felt I could not only keep the standards high but in fact help improve them. I started doing Kimberley cruises and Cape York & Arnhem Land cruises in 2003.
What have been the highlights of your association with Coral Expeditions?
There have been many highlights over the years while working with Coral Expeditions. The arrival of a true expedition ship, Coral Discoverer, in 2005, meant the company was finally able to forge new destinations internationally, while still maintaining its Australian personnel. This was a major highlight. Not only for the company but also for Australia. Another highlight has been watching the progression of an excellent crop of up-and-coming Expedition Leaders, who will take the company forward into the future.
Tell us about some of the people you've enjoyed working with at Coral Expeditions.
Over the years, I have formed many friendships with crew and guest lecturers in particular. The Purchasing Manager, Gary Wun Hym was a great friend already and that friendship has not changed. Many of the ship's masters have become friends over time. They had respect for my experience and I in turn had great respect for their management of crew and the responsibility that went with the job. Many of us have been eager to discover new places over time.
I have also worked alongside Steve Cox and between us we have worked together for almost 11 years. There is definitely an affinity there. Guests Lecturers, such as Ian Morris, Chris Done and Sandy Scott, just to mention a few of the older fogies, have been at my side since I started. I have gained a great deal of knowledge and local understanding from them and I have been able to return the favour by taking them to new destinations especially in the Kimberley. It is here I would like to mention the dear departed Alan Fox, a doyen of Australia. It is guest lecturers like these who make the job truly interesting.
After I suffered a severe accident, the whole comradery and support from everyone in Coral Expeditions was very humbling.
What about the Guest Experiences you've witnessed?
It has always impressed me – the number of return guests. Some have actually cruised with me over five times. As new destinations are visited so the guests keep returning. This is good – they know what to expect from me and I try not to let anyone down.
I do remember an elderly pharmacist who travelled through the Kimberley four years running. He came to the Kimberley while his wife went to England. He was a very fit octogenarian when he started, but he finally decided he was too old for gallivanting about. As he disembarked for the final time, he said to me: "You have taken me to almost forty different destinations and I have enjoyed every one. I will never forget you, but I will not see you again, more's the pity". His daughter wrote to me, 3 weeks later to let me know he had passed away and to thank me for looking after him.
Guests provide tremendous examples of group dynamics and it is extremely important to read the crowd as everyone is different.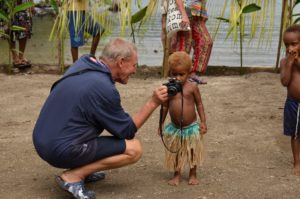 Which is the favourite destination that Coral Expeditions has taken you to? What made it special?
The Kimberley is my favourite destination, as I have spent over 45 years travelling through this region. What made it special was seeing it from the ocean. Up until 2003 I had only seen it from land. What else is special about the Kimberley is you can never get sick of it as colours and vistas change with every hour of every day. It is never the same. Papua New Guinea and the South Pacific has also been a favourite. I have been visiting there since 2005 and have made many friendships with local chiefs. If I have not been on the ship, the chiefs still welcome our Expedition Leaders as 'Jamie' much to the other Expedition Leader's horror!
Any significant or personal milestones you would like to share?
One of my significant milestones was my survival after falling off a rock ledge and injuring myself badly. I made it back after 5 months. It always made me smart as just before taking the tumble, I had told guests to be extremely careful when climbing rock ledges. A case of do what I say, not what I do! A personal milestone was walking and climbing onto the same ledge one year later. Brian Stubbs, who had assisted me after the fall, was like an old mother hen on that day.
How does Coral Expeditions' tagline "Australia's Pioneering Cruise Line" resonate with you?
I like this tagline – it is an accurate appraisal of a successful small Australian company. Right from the start Coral Expeditions have developed many new destinations. On many occasions we were the first to cruise to these destinations and others obviously thought they were excellent, because they followed us. We have built new ships to expand our development into small ship cruising at the right time – true pioneers.
Anything else you'd like to share as Coral Expeditions celebrates 35 years?
I have been with the company over half its life and the many changes have come thick and fast, however the constant has been the standards of service. There have been many staff changes, but new staff have always invested time and energy in keeping the standards high. That is why so many guests come back for more.
The destinations are the teasers, but the crew and the office staff are the keepers!!!
May the next 35 years be just as successful!