ONE YEAR ON, GRATEFUL AND HOLDING STRONG
Our reflections on 12 months of successful domestic cruising across Australia
It was one year ago that we returned to operations in Cairns under our newly devised SailSAFE health protocols. Since then, we have successfully operated over 80 expedition voyages on Australian shores carrying over 3200 guests. We have travelled the familiar shores of the Great Barrier Reef, Kimberley and Tasmania and broadened to new expedition territories including the wild islands of South Australia and the Abrolhos and Coral Coast of West Australia. Our guests and our crew have been thankful to be back at sea. We are very proud of our achievements as they are testament to our pioneering spirit and commitment to do whatever it takes to ensure the safety of our guests and crew.
As we reflect, we do so with real gratitude. Grateful our crew remain strong and together. Grateful for the trust and faith that our loyal guests and travel partners have shown over the year. Grateful that our new vessel Coral Geographer was delivered and that our fleet is back doing what it was built to do and grateful to the many partners and suppliers who have worked hand in hand with us to face any challenge that has come our way. Covid is with us, and the travel landscape has certainly changed, but we are well poised. Small group, small ship expedition cruising is a timeless travel experience and the chance to escape into nature is perfect for these times.
As a company our single purpose has always been to take small groups of likeminded explorers into remote natural places, with expert guidance and warm Australian service. This remains today and into the future.
As we look ahead, we are encouraged by local and global developments in health that will provide a safe and more open travel environment in the year ahead. We are continuing our focus on the Australian coastlines with some new expeditions planned this summer headlined by two new iconic 14-night Heart of the Reef and Outback expeditions. We have also finalised plans for the release of international schedule which will include voyages to the Islands of the South pacific and New Zealand in late 2022 along with a return to the Spice Islands and the Small Islands of the Indian Ocean in early 2023.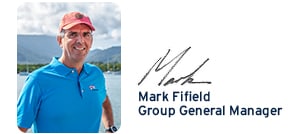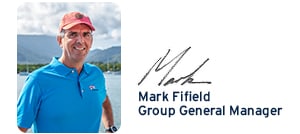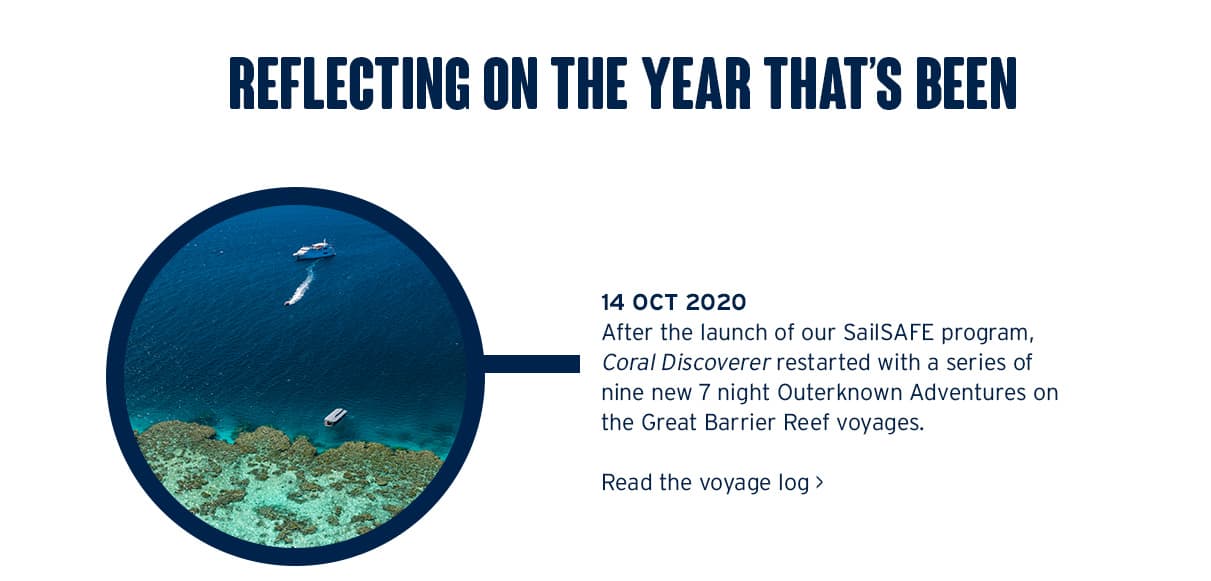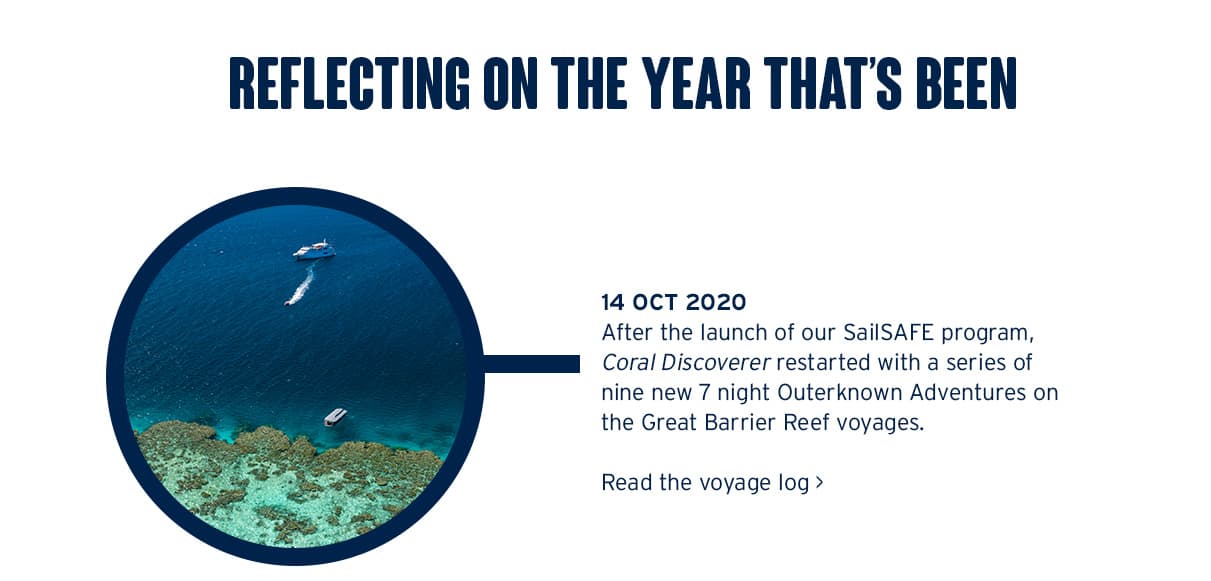 Coming up next
We thank all of our guests for travelling with us over the past 12 months and we look forward to our upcoming summer season of voyages!